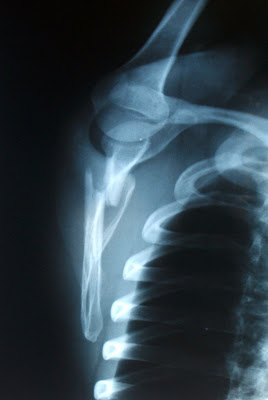 Cigarettes might kill you, but they'd struggle to break your shoulder. For that you need a whole new habit.
Try downhill mountain biking.
I
didn
't realise I was an addict, then I looked back and saw that all the signs were there:
- It costs me too much
- I hang around with other addicts
- To me they seem normal
- I don't see what's funny about a subscription to "Dirt!" magazine
- I disregard the side effects of my addiction as trivial
- Even when these side effects put me in hospital
It's definitely an addiction.
The problem is, when I started it was like gentle home-grown grass. Things have changed. Now, it's like genetically altered skunk.
When I was 14, mountain bikes, if ridden into roadside curbs, would crumple like wet cardboard. They were normal bikes, but with fat tyres. They were good fun but unlikely to get you into too much trouble.
Mountain biking for its early life was normal cycling but with added mud. Not so much mountain biking, more covered-in-crap biking. I had to wait until my 30s before the "mountain" bit was properly justified. It was worth the wait. It's brilliant.
The bikes are amazing; they're like motor cross bikes without engines. The trails are fantastic, and gone are the
lycra
, the
clippie
pedals and the bright poncy helmets. It's a whole new era of speed,
helidrops
, shocks, disc brakes, body armour and a complete disregard for saving weight. This means you get to ride them a bit like you ride snowboards: fast, off cliffs and generally with the assistance of chairlifts. They are also more than equipped to get you into lot and lots of trouble.
Doing this aged 14 would be fine: Break a few bones. Mend quickly. Get back out on the bike. Be fairly accomplished, even a little wise, by the time you hit your 30s.
If you try to cram all that experience into half a decade though, you soon learn that what now crumples like wet cardboard… is you.
There's a lump of bone in the photograph that's floating on its own. This is bad. It should be attached to the
jaggedy
stumpy bit of bone that it's floating beneath. Together they make a shoulder blade. Turns out that attempting to plough a French Alp with your right shoulder after an unplanned, high-speed dismount is stupid and painful.
I executed this ground-assisted stop on a Saturday – a day when the village surgery was closed. So in an ambulance I was shipped to the nearest town. The facilities were fantastic, but the doctor was only interested in making sure I'd not damaged the joint. He took a bunch of x-rays (of the joint), told me I'd not broken anything – gave me pain killers and said that I'd need to come back if, once the swelling had gone down, I
couldn
't move my arm above my head.
Turns out that, with rest, care and pain killers, I could not only lift my arm over my head, I could just about ride the bike. It was July, the sun was out, the lifts were running and there was a mountain to play with….
Clever addict.
Naturally I picked up the odd knock here and there, but knowing that the bones and ligaments were largely OK – I felt reasonably comfortable. An interesting conclusion given how much I don't know about shoulders, bones and ligaments.
Then reality caught up. Pain. A kind of can't-sleep-can't move-can't-keep-still, feels-like-I'm-constantly-being-stabbed-with-a-pointy-rusty-pitch-fork pain.
Tim and Andy carefully hauled me to the, now open, local GP. How I wished I had the foresight to injure myself on a week day in the first place; you know that you're in a mountain resort when the local GP surgery has four beautifully-equipped x-ray suites. The feeling of being surrounded by experts was certainly comforting.
It was less comforting to hear the barely disguised glee in the doctor's voice as he rushed in with the x-ray films explaining, "Big, big, break, Monsieur. Snap! Very rare."
He then proceeded to talk me through the above picture, and explain the surgery that would be necessary upon my return to England. He really was quite excited.
So no more riding. Just morphine, beer, world cup football and then the puzzle of how I was going to drive myself home to London at the end of the week.
I have now had it plated together. I'
ve
a fine scar, a good record of attendance at physio, and the staff at my gym came to recognise me again. I was lucky, it all mended perfectly. I was even able to take the week's downhill riding in Whistler we already had booked for the October – was a cautious week but shoulder held out.
I'm off to Les Gets again in June, and Whistler again in August. And I'm considering a bigger, fatter downhill bike. I even have friends that I no longer recognise unless they're wearing a full-face helmet.
Like I said, genetically altered skunk.